BOTTOM FILLING – MULTI DRUM | Model : BF-MD
The bottom filling system is suitable to fill all types of forming products. The entire lance assembly is mounted on the rigid pillar arrangement. The  filling system have 3 position ball valve for coarse, fine and super fine filling.
FEATURES:
Suitable for foaming, fuming, toxic, solvent and product generating static charge.
Suitable for filling 200/300/1000kg capacity of drum / IBC filling system.
Loadcell based weighing platform with idler /powerised roller.
Three stage filling operation (coarse, fine and super fine) for better filling accuracy and consistent performance.
Step by step lance up movement to avoid foam, fume and static charge.
Pillar assembly with radial swivel arm for left/right movement and push/pull arrangement for forward reverse movement.
Pneumatically operated diving nozzle filling lance with pneumatically operated foot valve.
Drip collection tray provided to avoid material spillage on container and platform
Auto In-flight compensation.
Inbuilt totalizer and drum counter.
Recipe management facility for various density products with separate target setting based on product.
OPTIONAL:
Conveyor automation
Bunging, De Bunging and crimping tools.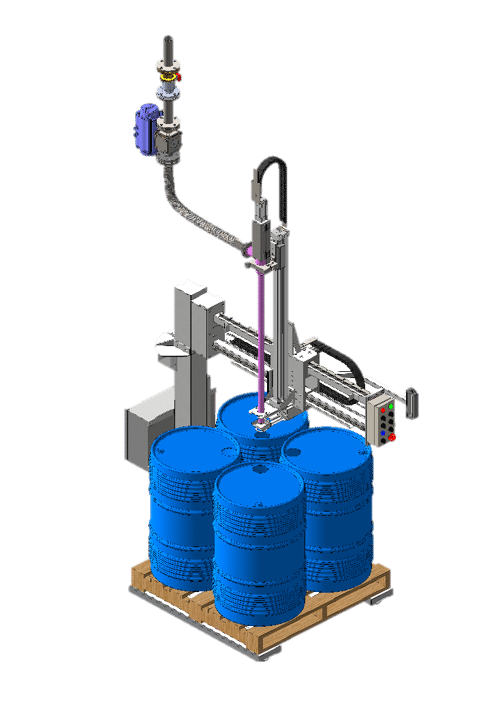 The other products in the range