CHECK WEIGHING SYSTEM Model : CKW-HS
DESCRIPTION:
The check weighing system is being supplied for checking weight tolerance of Packages on the secondary packing lines. And it is mainly suitable for parcels such as Small Carton Boxes, Bottles, Tubes Plastic/Paper Pouches.
CHECK WEIGH SYSTEM CKW-HS :
Suitable to check weight of parcels of capacity from 200g to 2 Kg.
Load cell based weighing platform with powerised roller.
Powerised Infeed conveyor with pneumatically operated parcel stopper to regulate parcel movement on platform.
Powerised Out feed conveyor with pneumatically operated with pusher or diverter for rejection of out of tolerance parcels.
Rejection collection tray / idler roller conveyor.
NOTE:
System is provided with roller (CKW-R) or belt(CKW-B) depending on application.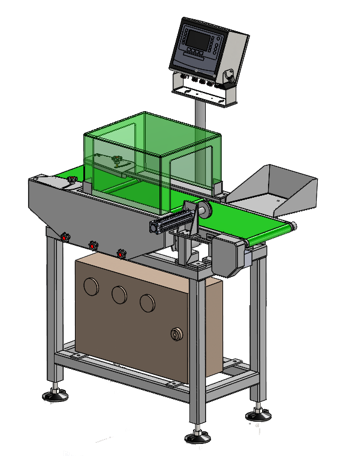 The other products in the range