TOP FILLING – SINGLE DRUM (Model : TF-SD)
Description:
The top filling single drum (TF-SD) system is used for semi-automatic drum filling applications. And it is suitable for filling all types of non-foaming products.
Features:
Suitable for Non-foaming products.
Suitable for capacity ranging from 20kg to 300kg drums.
Three stage filling operation (coarse, fine and super fine) for better filling accuracy and consistent performance.
Load cell based weighing platform with idler / powerised roller.
Pillar arrangement for mounting pneumatically operated top filling lance fixed with rack & pinion assembly for height adjustment to fill containers of different heights.
Drip collection tray provided to avoid material spillage on container and platform.
Auto inflight compensation facility to get good accuracy.
Inbuilt totalizer and drum counter.
Recipe / SKU management facility for various density products with separate target setting.
Optional
Conveyor automation.
bunging, de bunging and crimping tools.
Connectivity with PLC & SCADA.
Available for Ex Zones.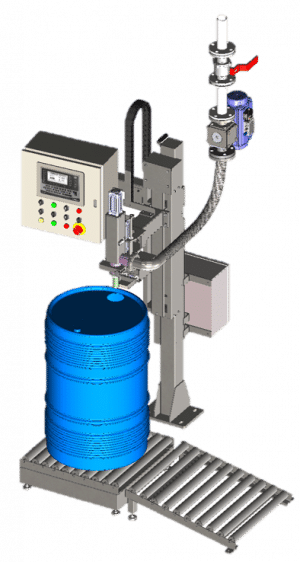 The other products in the range