TOP FILLING – SINGLE DRUM Model : TF-SD
The top filling single drum (TF-SD) system is suitable for filling all types of non-forming products. The entire lance assembly is mounted on the rigid pillar arrangement. The filling  system have 3 position ball valve for coarse, fine and super fine filling.
Features:
Suitable for capacity ranging from 20kg to 300kg.
Loadcell based weighing platform with idler /powerised roller.
Three stage filling operation (coarse, fine and super fine) for better filling accuracy and consistent performance.
Pillar arrangement for mounting pneumatically operated top filling lance fixed with rack & pinion assembly for height adjustment to fill containers of different heights.
Drip collection tray provided to avoid material spillage on container and platform.
Auto In-flight compensation.
Inbuilt totalizer and drum counter.
Recipe management facility for various density products with separate target setting based on product characteristics.
Optional:
Conveyor automation
Bunging, De-Bunging and crimping tools.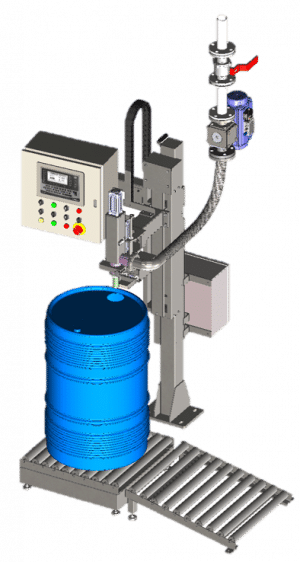 The other products in the range